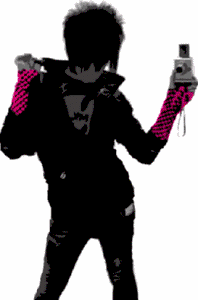 Hello to you all!
welcome to our page we are so glad you stopped by us, add us your more then welcome to do so.
We love to make Gif Pictures and Draw on paper. We are new on here so help us out if we ask you, and also if you edit pictures like on Photoshop, Photoplus and/or on websites tell us of you want to edit for RP (role-players) myspace. we have a site too called "Barbie is Metal" we edit for Anime/Scene/Disney characters. but anyway we like that if you help us out and hope you tell us you want to help out.
we will give you our E-mail.
We also can't do those color and huge words on here yet. Tell us plz!
and we also want some helpers for our Quizilla, Myspace and our Gaiaonline!. if you want to help is tell us so.
we also have a fanclube called "the word alive club" for that cool band. plz spread the word about us and we can be famous!. lol. nah just joking.
but hey check us out!