Well Hi!My name is Kairi.I soppost to tell you a little about myself,well...
I live in Destiny Islands,With my friends Sora,Riku,King Mickey,Donald,and Goofy when I was 14 Sora promised me that he'll be back for me so I wait.Riku and Sora take too much so I kinda went for myself.
I ended up in Twilight Town were I made new friends!Hayner,Pence,and Olette.I tell them about me and Sora Olette said it was a romantic story!Pence said that Sora may come here but Axel tooke me off.I went to The World That Never Was were DiZ captured me telling me that I was the fire that fed Sora's anger
Great!now Sora and Riku were in trouble thanks to me!
But we end up like this:
Sora and Riku went to the darkness so I was the only one of us who ent back to the Islands but...
Sora saw my letter it read:
"THINKING OF YOU,WHEREVER YOU ARE
WE PRAY FOR OUR SORROWS TO END
AND HOPE THAT OUR HEARTS WILL BLEND
NOW I WILL STEP FORWARD TO REALIZE
THIS WISH.
AND WHO KNOWS:
STARTING A NEW JOURNEY MAY NOT
BE SO HARD.
OR MAYBE IT'S ALREADY
BEGUN.
THERE ARE MANY WORLDS
BUT THEY SHARE THE SAME SKY.
ONE SKY.ONE DESTINY"
-Kairi
Then they came back!
I was so happy to see Roxas smile and he was happy to see Naminé's smile so everything went right and im hoping to see Roxas and Naminé again.
While Sora,Donald,and Goofy, are fighting with the heartless Riku is out with the darkness and me...hehe im back to been a normal girl who goes to school but sometimes...Im one of the seven princesses who ties with the keys and keywholes yep...im Kairi The Princess Of Hearts.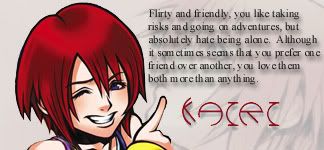 Thanks for coming!