~♥to my PAGE♥~...
~♥About me...aBoUt mE...aB0Ut mE...~♥

ok,ok,ok,sinz u know already my nickname,~♫♥kÄwÄii mE♥♫

i'm gonna start thiz 'watevah u call it thingy' with my real name,Jea May

.my burthday fallz on the 4th of May.

i am da 3rd eldest in my family.my fave colorz are black,white.pink & many more...i ♥ music

.i ♥ cute stuff
,cool dolls,friends and many more...i spend lotz of time in the computer... surfi'n the net, playing, typing & watsoevah...i like to hangout w/ my fwends in side da skul campuz. sometimez i would just sit quitely & think about past thingz, happenings or jzt daydreaming. unfortunatelly i'm a clumzy being...i'm born to be like diz. wat elz????...ah! i like to draw gurlz and make stories in my mind & i like to write any words. dat'z y i hav nice handwriting...hehehehe!!!so thanx for reading thiz thingy watsoever u call that...
~♥Jea May♥~

~♥my fave dolls♥~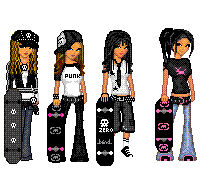 <a href=http://www.glitter-messages.com><img src=http://dl7.glitter-graphics.net/pub/128/128637xl0rv3jxks.gif width=420 height=420 border=0></a><br><a href=http://www.glitter-works.org target=_blank>glitter-graphics.com</a>