Ten things about me hmmm lets see...
1.I absolutely love manga & anime..especially Naruto, Naruto Shippuuden, Bleach, Death Note, Vampire Knight, Rosario+Vampire, Shin Chan, & Inuyasha!
2.My friends & family mean the world to me!
3.MUSIC IS MY LIFE!!
4.I have a cat whose named Fred..who I LOVE TO DEATH!!
5.My parents are divorced.
6.My favorite baseball team in the whole wide world is the St. Louis Cardinals.
7.I have no life (jk) so I spend alot of time on the computer.
8.I have two older bros who go by the names of Ben & Dustin.
9.I'm hyper 99.9% of the time!
10.I LOVE TO DRAW!!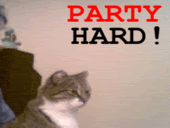 Fred Loses His Meds:







♥♥♥♥♥♥♥♥♥♥♥♥♥♥♥♥♥♥♥♥♥♥♥♥♥♥♥♥♥♥♥♥♥♥♥♥♥♥♥♥♥♥♥♥♥♥♥♥♥♥♥♥♥♥♥♥♥♥♥♥♥♥♥♥♥♥♥♥♥
Tee Hee Endrance=kiraralover Haseo=me Ovan=yourethevoiice
♥♥♥♥♥♥♥♥♥♥♥♥♥♥♥♥♥♥♥♥♥♥♥♥♥♥♥♥♥♥♥♥♥♥♥♥♥♥♥♥♥♥♥♥♥♥♥♥♥♥♥♥♥♥♥♥♥♥♥♥♥♥♥♥♥♥♥♥♥