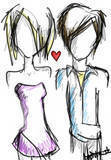 i go by vanessa.
im super quiet sometimes and not
to mention boring
dont like it? well its who i am.
i know its horrible. :/
i cant stand people that are too full of themselves
a lot of ppl just lie to me, and think im stupid
and wont find out.
i wanna get the f*** out of this world.
im tired of ppl being so fake and i cant stand it.
i dont know what i want in life.
i wish i could just be me but i cant be.
you're never going to understand me, but you're
welcome to try.
♥♥♥