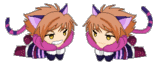 A girl that loves anime, manga & chibis because they're so cute.
She enjoys things like music, photography & blogging because it keeps her sane (lol)
A newbie on here, she's trying to make friends & graphics.
She is a tad bit random, weird & hyper at times that do (or sometimes don't) call for it.
She loves nicknames & is in search for a new one.
But for now call her Ambee.