Biography((in first person)):
Age:20
Membership status: Active
Height: 175.2 cm
Weight: 57.1 kg
Birthday: June 9
Blood type: AB
Ring: 朱 ("scarlet", "bloody")
Ring position: Right ring finger
Partner: Kisame Hoshigaki
Defining characteristics: Mastery of the Sharingan and Mangekyo Sharingan, Mastery of Uchiha fire-based jutsu
S-class criminal and a Konohagakure missing-nin
itachi uchiha was noted even within the Bingo Book (a list of powerful ninja who have been marked for assassination). He is currently partnered with Kisame to capture Naruto for the nine tailed fox. Unlike most other two-man teams of Akatsuki, Itachi gets along well with his partner. The name "Itachi" means "weasel". In Japanese folklore, weasels are an ill omen, signifying bad luck and death.((me: my name means death and bad luck! SWEET!))
Itachi graduated at the top of his Academy class at age 7, had mastered the Sharingan by age 8, became a Chunin at 10, and became an ANBU squad captain at the age of 13. Itachi was considered the best ninja among his clan. His father, who took an active interest in his son's career, said Itachi was the "pipe" that connected the clan to his village.
As a result of his father's involvement in Itachi's life, Itachi's little brother, Sasuke Uchiha was neglected. Itachi watched over Sasuke to a degree, convincing his father to spend time with Sasuke, such as attending Sasuke's entrance ceremony into Konoha's ninja academy, which required a guardian to be present. This changed after a confrontation between Itachi and his father.
After the suicide of Shisui Uchiha, who was believed to be Itachi's best friend, by drowning, Itachi was approached by three of his fellow clan members and questioned about the incident. Though they didn't state it outright, they considered him a suspect since both the circumstances surrounding the suicide and the suicide note seemed off. Angered, Itachi confronted the three and forced them to admit the truth. One of them mentioned that Itachi began behaving strangely about half a year after he joined ANBU. After a threat by one of the three, Itachi assaulted and effortlessly defeated all of them. In response to this, it was revealed that Shisui was told to keep an eye on Itachi due to his strange behavior. After being confronted by his father about his behavior, Itachi responded that " lost all hope for this pathetic clan", but apologized regardless when asked to stop by Sasuke.
Not long after this incident, Itachi slaughtered his entire clan except for Sasuke, who had been at the academy during the slaughter. Sasuke returned home shortly after everyone was killed and found his brother standing over the bodies of their parents. When questioned on his motives by Sasuke, he claimed it was "to test his ability". He revealed he purposely played the part of the loving older brother as a way to test Sasuke's potential. Itachi also confirmed the truth of the suspicions that he had murdered Shisui in order to gain the Mangekyo Sharingan, for which killing one's best friend is a requirement. He then departs, telling Sasuke that he wasn't "worth killing" and that if he wants to kill him he must spend his life hating him and acquire the Mangekyo Sharingan.
Itachi mainly uses ninjutsu and genjutsu during battle, both of which are augmented by his Mangekyo Sharingan. In the former, Itachi's Mangekyo Sharingan allows him to use Amaterasu, a jutsu which creates black flames that are hotter than the sun and can penetrate any barrier. He also uses basic ninjutsu at such a speed that even another Sharingan user has trouble following the movements. With his Sharingan, Itachi is virtually immune to his opponent's genjutsu, simply reversing it back upon them using the copy abilities of the Sharingan. With the Mangekyo Sharingan, Itachi can also use Tsukuyomi, a genjutsu which traps his opponent in an illusionary world. Itachi can then torture his opponent for days on end, all of which takes place in the blink of an eye in the real world. Though the main strategy to avoid the Sharingan is to avoid eye contact and focus on Itachi's feet or body, as mentioned by both Guy and Kakashi, even this is not a certain method of evading his techniques. By merely pointing at an opponent, Itachi can catch them in a powerful genjutsu.
me:
me at thirteen:
my akatsuki partner: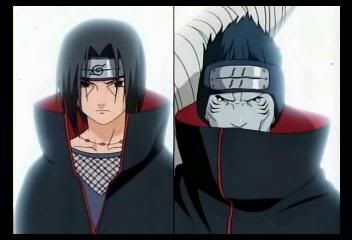 my foolish little brother:
akatsuki:
check out my sister animlover62295 ((sakura)) on glitter-graphics okay not in the anime:
me deidara and sasori:
take that nemo:
im killing people with a shark??????
........ime?
sasuke's birthday that was really good cake: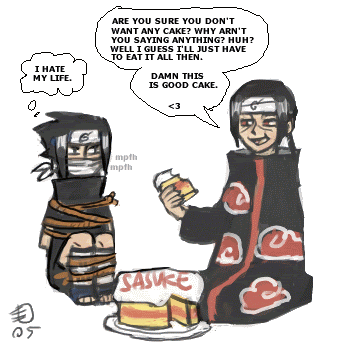 my answer is the best!