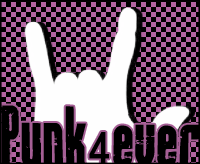 current theme song:
No Biterz
by Miss TK And The Revenge
I am a very shy person. But I'm caring, funny, sarcastic, and crazy around my friends.
I don't judge;
anyone
can be my friend.
Reading, writing, and drawing is what I'm
about
.
I like
rock
music mostly; but I also like J-POP, K-POP, dance, house, R & B, Punk-Rock, alternative, a bit of pop, and much more.
I have my share of problems, and life isn't easy. But in general, you have to take care of
yourself
first before anyone else.
some of my favorite songs:
Not Falling
by Mudvayne
Riot
By Three Days Grace
Breathe Into Me
by Red
Let Go
by Red
The Arms of Sorrow
by Kilswitch Engage
Coming Undone
by Korn
Everything Changes
by Staind
Helena
by My Chemical Romance
The Good Left Undone
by Rise Against
The Best Of You
by Foo Fighters
Anna Molly
by Incubus
Over Night
by Aya
Miss Murder
by AFI
Let the Flames Begin
by Paramore
Everybody's Fool
by Evanescence
Torniquet
by Evanescence
Song With A Mission
by The Sounds
Tick Tick Boom
by the Hives
Map of the Problematique
by Muse
March Of War
by Nonpoint
Holiday
Green Day
The Bird and the Worm
by The Used
Holy Mountains
by System Of A Down
Aerials
by System Of A Down
B.Y.O.B
by System Of A Down