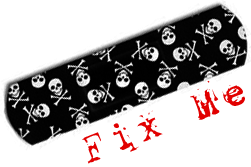 I am a Demolition Lover. I am NEVER okay. I was welcomed to the black parade. I am young, and I don't care. I am disenchanted. I am filled with unapologetic apathy. I mourned Mikey's glasses. I live Life On The Murder Scene. I cried to The Ghost Of You. I cried to Famous Last Words. I worried about Bob & his burn. I helped Gee stay sober. I have an obsession with Ray's hair. I am not afraid to keep on living. I Crashed The Cemetery Gates. I've brought you my bullets when you brought me your love. I've given three cheers for sweet revenge. I know what they do to guys like us in prison. I've gave 'em hell, and hung 'em high. I've killed all my friends. I gave you gallons of blood. I've seen the early sunsets over Monroeville. Vampires can never hurt me. I am DEAD! And I will be buried in all My favorite colors. Black. So shut your eyes, kiss me goodbye, and sleep. These are my famous last words. So, thank you for the venom.
~~~~~~~~~~~~
Gerard Way quotes!!!
"I said to myself, 'Man, I'm so tired of hearing songs about peoples' ex-girlfriends. It's really nauseating. And the whole me, me, me aspect of it was just like overdone."
 "I'm not psycho...I just like psychotic things."
"When we first started out I had a really big issue and a lot of my loved ones had a really big issue with the fact that I was totally in pain up there and there was a time when I tried to hurt myself off stage, but I got over that. Like, you should never want to hurt yourself. You should love yourself. Sometimes you have to kind of die inside in order to rise from your own ashes and believe in yourself and love yourself and become a new person and I think that that is going to be a lot of what the next record is about, not to plug it or anything. Like, it's going to talk about dying and coming back to become what you totally want to become. We are all becoming what we want to become."
"If for one minute you think you're better than a sixteen year old girl in a Green Day t-shirt, you are sorely mistaken. Remember the first time you went to a show and saw your favorite band. You wore their shirt, and sang every word. You didn't know anything about scene politics, haircuts, or what was cool. All you knew was that this music made you feel different from anyone you shared a locker with. Someone finally understood you. This is what music is about."
"Hey, girls, you're beautiful. Don't look at those stupid magazines with sticklike models. Eat healthy and exercise. That's all. Don't let anyone tell you you're not good enough. You're good enough, you are too good. Love your family with all your heart and listen to it. You are gorgeous, whether you're a size 4 or 14. It doesn't matter what you look like on the outside, as long as you're a good person, as long as you respect others. I know it's been told hundreds of times before, but it's true. Hey, girls, you are beautiful."
"So many people treat you like you're a kid so you might as well act like one and throw your television out of the hotel window."
"Singing songs that make you slit your wrists."
"Be yourself, don't take anyone's shit, and never let them take you alive."
"One day your life will flash before your eyes. Make sure its worth watching."
~~~~~~~~~~~~~~
Wooooah, dude, did you just read this whole thing? You are the coolest person I have ever met... Maybe. :D