-Hi, I'm Paige but you can call me PJ, Heike, or Dark.
-I'm 16years old.
-I live in Fayetteville, Pennsylvania.
-I'm Bisexual. You don't like it, too bad dont care.
-I'm vegitarian.
-I have an "I dont care" mind about everything.
-Im shy but unless I know you or am confrontable when talking to you, you will say different.
-I stand in what I believe in.
-I get pissed off easily.
-Music is a passion of mine.
-Hanging with my friends is my life.
-My family is unimportant to me. I HATE my family. Except my Juggalo Family.
-I wish to one day be living in Germany or Austraila. Or maybe Scotland. Only because I can't stand this country.
-I want to be a High school Math teacher when I get older.
-I have msn,yahoo,aim and skype.. Want it, ask for it.
-Want to know more, just ask.I will answer to all.
My dog Roxy!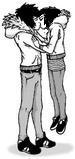 So cute!





~~~~~~~~~~~~VANISHING~~~~~~~~~~~~
As i lie here waiting/
Watching everything that goes
by/
Wondering,wondering
why me?/
Fading,fading
away/
Slowly and painfully/
Drifting into a
long sleep/
Still waiting/
Waiting for someone
to come get me/
Day and night
pass by/
And still no one
notices me or
comes get me/
Slowly and painfully/
I wait/
Going, going/
GONE.
~~~~~~~~~~~~MY LIFE:(~~~~~~~~~~~~
My life is a war zone/
My life is a death zone/
A torcher zone/
My life is horrible/
Nothing goes right/
I hate my life/
Everyone in it is
over rated/
They try to control
every last bit of it/
I CANT TAKE IT NO
MORE!!/
Tonight is the night/
I die inside/
Dying/
Dying/
DEAD. :'(