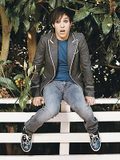 Try Not To Cry
Mommy.. Johnny brought a gun to school
He told his friends that it was cool,
And when he pulled the trigger back,
It shot with a great crack.
Mommy, I was a good girl, I did What I was told,
I went to school, I got straight A's, I even got the gold!
But Mommy, when I went to school that day,
I never said good-bye,
I'm sorry Mommy, I had to go, But Mommy, please don't cry.
When Johnny shot the gun, He hit me and another,
And all because Johnny, Got the gun from his older brother.
Mommy, please tell Daddy; That I love him very much,
And please tell Zack; my boyfriend; That it wasn't just a crush.
And tell my little sister; That she is the only one now,
And tell my dear sweet grandmother; I'll be waiting for her now,
And tell my wonderful friends; That they always were the best;
Mommy, I'm not the first, I'm no better than the rest.
Mommy, tell my teachers; I won't show up for class,
And never to forget this, And please don't let this pass.
Mommy, why'd it have to be me? No one deserves this,
Mommy, warn the others, Mommy I left without a kiss.
And Mommy tell the doctors; I know they really did try,
I think I even saw a doctor, Trying not to cry.
Mommy, I'm slowly dying, With a bullet in my chest,
But Mommy please remember, I'm in heaven with the rest.
Mommy I ran as fast as I could,
When I heard that crack, Mommy, listen to me if you would,
I wanted to go to college, I wanted to try things that were new,
I guess I'm not going with Daddy, On that trip to the new zoo.
I wanted to get married, I wanted to have a kid,
I wanted to be an actress, Mommy, I wanted to live.
But Mommy I must go now, The time is getting late,
Mommy, tell my Zack, I'm sorry but I had to cancel the date.
I love you Mommy, I always have, I know; you know it's true,
And Mommy all I say is, "Mommy, I love you."
****In Memory of The Columbine & Virginia Tech Students Who Were Lost****
Please if you would,
Don't smash this on the ground.
If you pass this on,
Maybe people will cry,
Just keep this in your heart,
For the people who didn't get to say "Good-bye".
R.I.P JEFF & JERRED GONZOLEZ.
(JEFF=1992-2008)(JERRED=1993-2008)....SEE U IN HELL BOYZ!
well in my real life i was abused at 3, my parents are druggies, i live with my older sister and my twin sister and my mom doesnt care about me.
in my pretend life, i live at y2j619 on sesame street in the imag-i-nation, my twin sister lives with me and so does cookie monster. elmo lives next door 2 me and big bird lives on the other side of me. in pretendville i have 5 boyfriends, there names are Peter Panda (pete wentz), Mikey James (mikey way), Gee Aurthur (gerard way), B.J. (billie joe), and jeff hottie (jeff hardy)......I LUV PURPLE MUNKEEYZ!!!!!!!!!!!
ALL U EMILY OSMENT, AND HANNAH SLUT-ANNAH LUVERZ SUCK SO GET OFF MY PAGE!!!!!!!!!
╔═╦══╦═╗ Put this on your
║╩╣║║║║║ profile if you are or support
╚═╩╩╩╩═╝ Emos
(\__/)
(='.'=) This is Bunny. Put him on your
(")_(") homepage and help him on his
way to WORLD DOMINATION!!!!!
(>**)>.....<(**)>....<(**<)...kirby is dancing to My Chemical Romance's hit song Teenagers!! if u love that song put kirby on ur profile!!!
im in luv w/ mikey way, pete wentz, gerard way, jeff hardy, billie joe, AND EMO BOYZ, music and wrestling iz my life.

READ THIS :
Isn't it funny that when you go to the shops with your friends,
you look down at the person with black jeans and studs but smile
at the girl wearing a mini skirt with a t-shirt that
barely covers anything?
Isn't it funny you can change your music taste to impress a guy but when it comes to a girl who likes her own music and has her own style, you give her a mouthful?
Isn't it funny that a guy can get away with being a "gangsta" but the emo gets a mouthful from everyone?
Are you laughing?
Isn't it funny how an emo can be quiet all through the week but gets more shit from everyone than the girl who sleeps around and sells her virginity?
Isn't it funny that you don't mind your friends drinking or smoking but the minute someone mentions emo music you can give them a lecture on melodramatic teenage outcasts?
I'm not laughing.
It's so funny that you and your friends can make a girl's life hell and not know anything about the silent battle she might be fighting.
Isn't it funny that you can call emos, punks, and goths the retards but still manage to get through your day without an inch of guilt in your heart?
HOW YOU CAN CALL A PERSON A POSER? HOW CAN YOU SAY "YOUR NOT EMO" OR "ATTENTION SEEKER" WITHOUT SPENDING A SECOND TRYING TO FIGURE OUT WHY THERE ARE CUTS ON THEIR WRISTS AND WHY THEY SPEND THEIR LUNCHTIMES CRYING INSTEAD OF LAUGHING WITH HER FRIENDS?
Keep on laughing.
Isn't it funny how you can say and do all this without any idea of what is going on in this person's life...
Without knowing her situation with her friends...
Or her family...
Or her LIFE?
BRAVE ISN'T GOING UP ON STAGE AND STRIPPING.
BRAVE IS NOT SAYING A SPEECH...
OR DUMPING YOUR BOYFRIEND.
BRAVE IS...
GOING TO SCHOOL EVERYDAY AND NOT-FOR A SECOND-CARE WHAT THE WHORES AROUND YOU ARE SAYING ABOUT YOUR CLOTHES.
IT'S LISTENING TO YOUR OWN MUSIC AND BEING PROUD OF IT.
IT'S GOING THROUGH EVERY DAY WITH THE THINGS PEOPLE SAY TO YOUR FACE AND BEHIND YOUR BACK AND YOU STILL KEEP QUIET.
IT'S KNOWING WHAT YOUR "FRIENDS" ARE SAYING ABOUT YOU AND STILL CALLING THEM YOUR FRIENDS.
BRAVE IS KNOWING THAT TOMORROW ISN'T A BRIGHT AND HAPPY FUTURE.
IT'S ANOTHER DAY OF BITCHING AND DODGING RUMORS.
come now that you've read this repost it with 'Isn't it funny that people do this...?' or 'Brave is...'
no, you will not die in 7 days
no, your lover, or whatever will not die
no, there isn't a ghost in your basement that will rape you
no, some girl in a sewer isn't gonna kill you
no, you won't have bad luck for blah blah years
no, nothing like thats gonna happen
just repost get the damn word around people i don't care who you are just repost it!
it won't hurt me if you don't just do so you know your getting the word around
**if you agree put the words at least on your profile**
RANDOM MIKEY WAY QUOTES:
1) I like popsicles
2) We are very attractive to them because we dress like homeless people.
3) There's less violance in the world when people start using hula-hoops.
4) We are extreamly greedy when it comes to electricity in our Ipods, we say stuff like "Yo im only in half a battery and i got a plane ride!!"
5) The band is metal in the way we have a lot of metal in our instruments, and i have quite a lot of metal on my belt buckle as well.
6) Regret is a sighn of weakness, besides girls have cooties.
RANDOM FACTS ABOUT MIKEY AND GERARD WAY:
1)mikey counted to infinity....twice,
2)mikey can slam revolving doors............YAY MIKEY!!!!!
3)gerard makes out w/ mikey.....sooo hot! *sigh......giggle giggle....blush*
4)gee's shoe size is a size 9
5)gee is 30!!!!
6)mikey is 27
THE TEN COMMANDMENTS OF GERARD WAY
1.Thou shall never let them take you alive.
2.Thou shall drink Starbucks coffee
3.Thou shall play World of Warcraft as an Undead Warrior
4.Thou shall admit that they are not okay freely
5.Thou shall unleash the bats of hell
6.Thou shall strike violent poses
7.Thou shall stay out of the light
8.Thou shall suck thy enemies blood
9.Thou shall overcome thy weaknesses
10.Thou shall not be afraid to keep on living
THE TEN COMMANDMENTS OF FRANK IERO
1. Thou shall run around until thou can no longer breathe
2. Thou shall eat skittles
3. Thou shall let the singer feel thou up
4. Thou shall wear a badge on thy shirt collar or hood
5. Thou shall get tattoos
6. Thou shall kick random objects if they are in thy way (yes that means if they are in Gerard/Mikey too)
7. Thou shall grin with all teeth
8. Thou shall change hair style every year
9. Thou shall wear sunglasses in situations of conflict
10. Thou shall burn everything and call it Cajun
THE TEN COMMANDMENTS OF MIKEY WAY
1. Thou shall move as little as possible on stage
2. Thou shall choose coffee as thy poison
3. Thou shall straighten hair with dignity
4. Thou shall love sushi as much as thineself
5. Thou shall be the spiritual advisor to thy peers
6. Thou shall wear glasses as close to falling off as possible
7. Thou shall have epic battles with brick walls
8. Thou shall hate small spaces, large spaces and grocery shopping
9. Thou shall love unicorns with all thy heart
10. Thou shall be dangerous around toasters/heaters
THE TEN COMMANDMENTS OF BOB BRYAR
1. Thou shall never get mad at those more annoying than thou
2. Thou shall look cool with sunglasses
3. Thou shall declare that Gerard makes thou heart burn openly
4. Thou shall love cats
5. Thou shall walk in the other direction/lash out if a camera is shown
6. Thou shall T.P New York
7. Thou shall drum until thou can drum no more
8. Thou shall give out Mikey Way's phone number
9. Thou shall be the hardest working drummer ever
10. Thou shall love Mr. Bean as thou equal
THE TEN COMMANDMENTS OF RAY TORO
1. Thou shall head bang till thou can head bang no more
2. Thou shall stick thou hands in cupcakes
3. Thou shall hide thy contacts well
4. Thou shall not like to read
5. Thou shall not bother to cook
6. Thou shall play until thou gets 'Guitar Burn'
7. Thou shall hate thou hair when straightened
8. Thou shall sing back up as if it were the most important part
9. Thou shall ask Gerard to not do 'that' in thy direction
10. Thou shall be proud of thou afro
THE TEN COMMANDMENTS OF THE BLACK PARADE
1. Thou Shalt Accept Death As It Comes
2. Thou Shalt Sing And March Without Question
3. Thou Shalt Face Fear And Regret
4. Thou Shalt Let Go Of Your Dreams
5. Thou Shalt Give Blood
6. Thou Shalt Fear Thy Sins
7. Thou Shalt Protect Thy Brothers In Arms
8. Thou Shalt Darken Thy Clothes
9. Thou Shalt Not Walk This World Alone
10. THOU SHALT CARRY ON!!!
dont menchin the wordz "chemical" or "romance" cuz that makes me blurt out random MCR songs.
i practice MCRism, FOBism, Mikeyism, Geeism, GDism, BillieJoeism.....and im part of the MCRmy........join us....join us....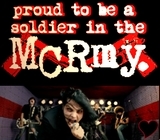 I luv 2 rite poems so im gonna post a couple of my faves if u wannna put them on ur profile cuz u agree wit them or 4 watever reason go ahead just dont be sayin u rote em!
Bloody Teardrops
Bloody teardrops falling from my eyes
As i try not to..show my face as i cry
You look at me, I look away
Same routine each and every day
Bloody teardrops now on the ground
My true love finally found
I drop to my knees
And i think i see
Bloody teardrops coming from your eyes
As you watch me slowly die.
My Fault
Everything is always my fault
I hate myself
Just leave me alone, let me die
so i can finally be out of their lives
The fights are my fault,
The Seizures are my doing too
Im sorry for all the hurting i have caused you
Stay away from me, I hurt everyone i touch
Everything is my fault
I hate myself so much
What if
If I die what will you say?
Will you be with someone else
or sit home all day?
Do you really love me like you say you do?
Or do you just want to use me?...Tell me thr truth
Are real feelings there?
Do you really care?
People lie, People cheat
but my real feelings will not decease
I love you
I hope you love me too

true about"labels" n "steriotypes"
u start in a way and with the pass of the years u note u have things in comon with others persons and then, if u want , u join them but all that persons with whos u r join in are all like u but not the same of u; they have a name 4 calling them group (as emo, punk, rockers, wherever).
the point is that "steriotypes" as the ppl say , are not that, those are SOCIETIES.
4 too many times, u r alone, between too many ppl and u don't know that, and that's hurt.
to be normal is to be human, be real, and diferent with points in comon, ppl can't say u r not normal cuz u r diferent! n every body is real but i must to add, there are ppl who copy 2, n that's not be ur self, n u must to be your self!.
every body has a little part of those societies or "urbans, tribus" inside, but they don't know that.
so stop saying "it just an steriotype" it just a society as all of them in the whole world, they r normal n diferents as all of us n remember they are ppl too.
*if u are agree with this just put it in ur profile*