i play bass im my band. Haven't actually got a name for it yet, even though we started it about 5 years ago lol.
I love anime and my fave at the mo is Naruto and Neon Genesis Evangelion(they rock!!!)
Also, many people call me emo because i wear black and listen to rock music, but im not. I just like black and rock is really good!!
Isn't Kakashi the best?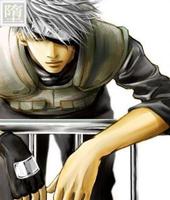 Wooo! Joey!