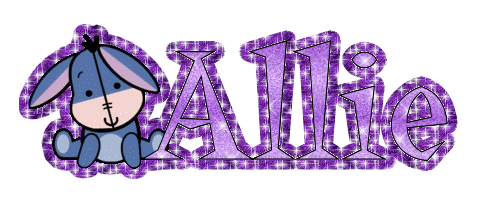 HAYY!!! Im allie as u can c above with the big letters lol. well ima tell youh about me now. i got a fabulousss besties who i call m and m. ;] and i love em very much. i also got other bff's they are: NHU, SYEDA, && i can't forget FARAH!! I love all my besties very much but i think i love maemae the most....=) me and her are as tight as the jbro's pants. lol. My favorite tv show is H20 i love that show. i especially love thier accents. My favorite kinda car is a lexus--lyk shirin's...me && her have same taste in cars.. My favorite colors are green, yellow, and pinkk!!! My favorite thing to do is mess arond with my maemae. ♥ its so funny. lyk the way i call her poor good times good times. lol. I also love the t.v show HANNAH MONTANA. yaupp thats rite big boy or gurl? lol i love her quotes lyk for example i love this one , "i was chewing on a napkin and lily was alll lyk bug on a windshild and jackson was lyk she said dodo and i was lyk GOODNIGHT EVERYBODY and THATS why we have to move." lol i love this qoute. and omg i love the game truth or dare soo funnnn. =) me and brenda played it.omg im sorry brenda about u kno whut. but u knoe ur still smoken oken.u leave the guys heartbroken and everybody knoes that were not just jokina wicki wicki whut and a wicki wicki bye a wicki whut and awicki wicki bye. lol when it rymes it makes sense.
Joe&Demi in camp rock photoshootjonas brothers jennx3Nick Jonas--Jonas Brothersnick jonas - jonas brothers \ jennx3
< < Demi and Slelena i luv em.
| | Put this on your
| | page if you have
| O | ever pushed a
| | door that says pull!! L.O.L♡
*Hello Beautiful,
It's 7:05, here in Australia, so please Hold On while I explain to you what happens When You Look Me In The Eyes. In Year 3000, you would be What I Go To School For and I'd always say Nick J Is Off The Chain because That's Just The Way We Roll. Now I'd Appreciate it if you Don't Tell Anyone, but I've got this Crazy Kind Of Crush On You, You Just Don't Know It. I wish I could trade places with Mandy just for 6 Minutes because I know we would be Inseperable, and then I could just Move On like the Games they play in Hollywood. But deep down Im Still In Love With You. I dont wanna be Just Friends. I know I may be the Underdog in this siuation, but I Am What I Am! I've been sending out S.O.S's hoping you'd help out some Poor Unforutnate Souls because I Wanna Be Like You. Now I know we're talking about the Kids Of The Future and it seems like it just may be Eternity before "Oh Joseph, Please Be Mine", but we can always take One Day At A Time. So stop Pushing Me Away and Don't Take My Heart and Put it on a Shelf, cause I'm Buring Up for you. Now it is Time For Me To Fly, so Goodnight and Goodbye!
♥J♥O♥N♥A♥S♥B♥R♥O♥T♥H♥E♥R♥S♥
000000000000000_0000 00000000000
00000000000000___000 00000000000
0000000000000_____00 00000000000
000000000000_______0 00000000000
00000000000_________ 00000000000
0____________True____ ________00
000_______Jonas Brothers___ _0000
000000 _______Fan_________ 00000
0000000_____________ ____0000000
000000_________0____ _____000000
00000_______0000000_ ______00000
0000_____00000000000 00_____0000
000___00000000000000 00000___000
ι'м ноτ ;; уоυ'яε соℓ∂
уоυ gо αяоυη∂ ℓιkε уоυ kηоω.
ωно ι αм ♪ вυτ уоυ ∂оη'τ
→ уоυ gоτ мε оη му τоεѕ
ι'м ѕℓιррιηg ιητо τнε ℓαvα
. . . αη∂ ι'м тяуιηg kεεр
ƒяом gоιηg υη∂εя ;; вαву
υ τυяη τнε τεмрεяατυяε »ноττεя«
сαυѕε ι'м вυяηιηg υр **
# вυяηιηg υр.for уоυ •вαву•
nick and joe....lmao.
If the Jonas Brothers said that breathing was uncool 95% of the girls on earth would be dead!!!
Today My Friend Told Me That Limited Too Is Not a Restaurant It's a store, And That you cant shoot bacon out of your body, she also told me that Quan Ziggy Ziggy Zam Is Not a holiday she told me that the Jonas brothers were not alive in 1923 and that the earth isn't covered in 75% water that there are cars in Oklahoma She also told me that no one can go to the year 3000 and oh you'll never believe this, she told me that there is no such place as Wisconsin Ohio and that Joe secretly isn't superman she also told me that Kevin wasn't controlled by an X-Box Remote!
Pshh...
BOY, IS SHE STUPID OR WHAT!? LOL.♥
NI------CK-Put This
-NI-------CK----if u
-N-I------CK----LOVE
-N--I-----CK----nick
-N---I----CK----jonas
-N----I---CK----or if u
-N-----I--CK----respect them
-N------I-CK----or if u just plain
-N-------ICK----LOVE them jonas brothers
When Life Gives You Lemons...Throw Them Back And Yell"I WANT THE JONAS BROTHERS"
Selena: Yo
Demi: Yo Yo, yeah I said it twice got a problem w/ that
Selena: so,i got this really cool shirt today, and it made me want to give a shout out to my boys
Demi: who's that
Selena:POWER RANGERS!!! wo wo wait, its morphin time! Yes i love power rangers i always wanted to be the red one,and thats a boy but i really dont care....
Demi: i wanted to be the pink one,witch is ironic because i am wereing all black,wich speeking of alot of you guys bin saying that i have bin wereing alot of make-up,thants alright i agree but this goes back to my all black all dark make-up days....but i gess u guys dont like that any more....
Selena: Demi look at me .....Demi look at me....do i have anything in my teeth....
Demi: pshh..no do i....
Selena: no
Demi: bc i fixed my gapp
Selena & Demi: Ohh Demi Lovato had a gapp...
Demi: not on As the Bell Ringss
Selena: i thought they digitally added that..
©JoE. JONas©~
so i'll wait till' kingdom come,
all the highs & lows are gone
a little bit longer, and i'll be fine <3
-nick jonas
PEACE LOVE JONAS<3