well........hi if you havn't already guessed im amy :O (btw, i love the ':O' face, im not just weird, well i am, but, yeah, thats not really the point) Some people say im kinda crazy.. and a bit weird sometimes.. and too be honest they're probably right! I am quite individual, and i don't just go along with things like what music and films everybody likes. I love all my friends.. i seriously couldnt live without them.. they are the greatest <3
Oh and im kinda obsessed with twilight :DD Who isn't??? Lol and i love edward cullen.. but just the character.. not robert pattinson..
and i'm also obsessed with Paramore....
and All Time Low....
and You Me At Six.... yes i'm very obsessive.. :)
ok now i dont really know what to say... so here's some information, you probably don't even want to know....
Ѧʋƨιc
Paramore
You Me At Six
All Time Low
Boys Like Girls
Tokio Hotel
Fall Out Boy
The Red Jumpsuit Apparatus
Hey Monday
There For Tomorrow
Nickleback
Lostprophets
Panic! At The Disco
Green Day
McFly (lol)
My Chemical Romance
Linkin Park
3OH!3
and loads more.....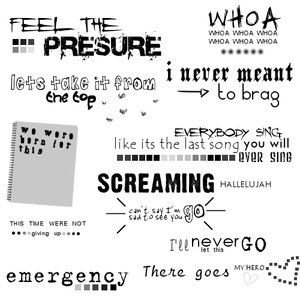 <3
I can't really be arsed to do anything more so..
thats all i'v got to say soooo.. please comment :D
amy xxx